Ethical business
A strong corporate culture prevents corruption and brings a competitive advantage. Competition benefits the markets. It may not be restricted, for example by cartels.
If your company commits a corruption offence, its reputation will suffer. Next your clients and investors will disappear and you will lose money. And a company that has a bad reputation is not an attractive employer.
Effective and credible anti-corruption measures support your company's long-term development. The measures must be relative to your company's size. The bigger the company, the more resources you should allocate to the fight against corruption.
How do I get started on fight against corruption?
All businesses should have a code of ethics that helps them respond in unclear situations. Importantly, it must be the management that makes the decision about drawing up a code of ethics. Management must be committed to anti-corruption practices because it has an important role in providing direction.
The code of ethics is based on the identified risks. The scope of the risk assessment depends on the size of the company, the sector and the geographic area of the activities.
After the code of ethics has been adopted, all employees must learn it. To this end, internal communications and compulsory training should be in place. Supervisors must ensure that the code is followed.
Employees must also have the opportunity to safely report misconduct and suspicious activity. The organisation must appoint enough employees for processing the reports.
Anti-corruption measures in an organisation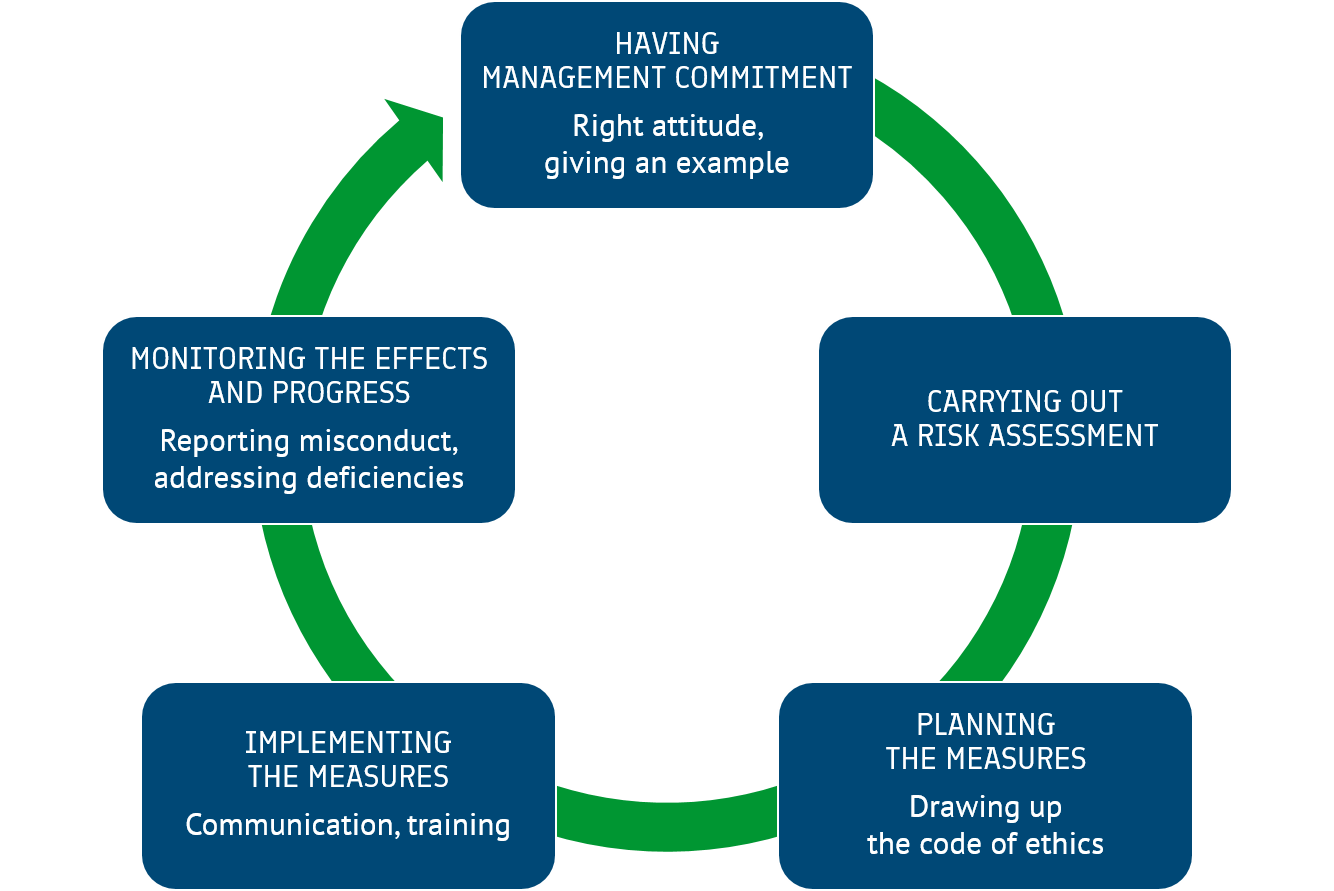 Read more detailed guidelines on the basics of ethical conduct.
Transparency and dialogue are signs of a good corporate culture
A strong and open corporate culture that encourages dialogue also prevents corruption. Corporate culture refers to the company's values, attitudes and practices and the assumptions and expectations people have about them.
An effective corporate culture also brings other benefits: a responsible company with a good reputation is an attractive workplace, partner and investment opportunity.
Business activities must be so ethical that they meet the legal requirements in each country where the company has activities. For example, the company cannot condone bribery even if it is common in one of the countries.
A strong corporate culture will extend to international activities. Companies should always disapprove of corruption, both in the company's country of origin and elsewhere.
Large companies must publish corporate responsibility reports
Corruption is always harmful, both for the company itself and the society in which it operates. That is why society expects corporate social responsibility from businesses.
The EU Directive on non-financial reporting supports the action against corruption in the EU. The implementation of the Directive in Finland led to amendment of the Accounting Act in December 2016.
Current legislation lays down obligations for large companies to report on their policies concerning:

the environment
workers and social issues
human rights
anti-bribery and anti-corruption action.

Companies must provide a short description of their business model, explain the risks related to their policies and describe how the risks are managed.
The reporting obligation applies to public interest entities of more than 500 employees and a turnover of over 40 million euros or an annual balance sheet total of over 20 million euros. Smaller companies can report voluntarily, and for the purposes of transparency they are recommended to do so.
The report can be part of the annual report. Alternatively, a corporate social responsibility report can be published separately, based on an international reporting framework.
Anti-competitive agreements damage the economy
Companies must comply with competition laws and decrees. Competitive markets benefit society as a whole.
Companies must not enter into agreements with their competitors seeking to:

fix prices
enter into bidding cartels
limit production
share markets or customers.
In a cartel, the tendering companies work together to increase their profits. Companies try to keep such agreements secret so that the organisation putting a contract out to tender would think that they are competing against each other normally.
A company that is a member of a cartel will not be under pressure to create new products, improve quality or maintain low prices. Consequently, consumers will pay a higher price for less quality.
Often cartels and other activities that breach competition law are also linked to other corruption.
Read more about ethical business and avoiding cartels
Ministry of Employment and the Economy: Corporate social responsibility
Ministry of Employment and the Economy: Corporate social responsibility (CSR) reporting
Finnish Competition and Consumer Authority: Cartels and other horizontal agreements
European Commission: Anti-competitive agreements