UN anti-corruption conference in Abu Dhabi seeks ways to combat corruption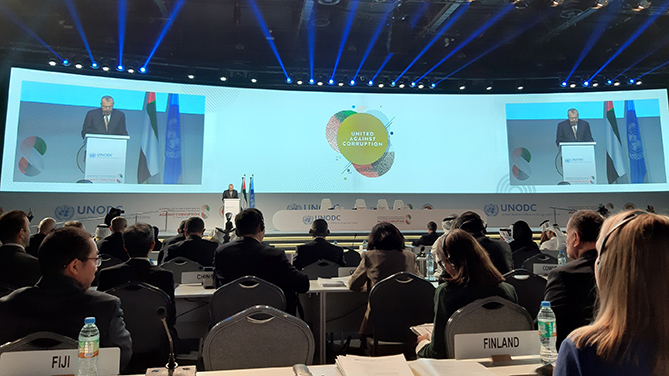 The Conference of the States Parties to the United Nations Convention against Corruption will be held in Abu Dhabi on 16–20 December 2019. Finland's representative at the conference is Malin Brännkärr, State Secretary to the Minister of Justice.
In connection with the conference, Finland will organise, together with Belgium, an on-site special event with the aim of informing the international audience about the EU Directive on the protection of persons reporting on breaches of Union law, also known as the Whistleblower Directive. Moreover, challenges related to whistleblower protection will be discussed and best practices in this area will be exchanged at the event.
The Whistleblower Directive adopted in October obliges employers to establish a channel for reporting malpractices. From the perspective of the fight against corruption, the protection of reporting persons and the possibility to report malpractices are essential both for the detection of corruption cases and for preventive action.
The conference is the world's largest anti-corruption event that brings together people from UN Member States, organisations and the private sector. The conference, which meets every two years, will discuss the review of the implementation of the UN Convention against Corruption and the improvement of anti-corruption capabilities, among other things.
The Convention against Corruption, adopted in 2003, is the only legally binding universal anti-corruption instrument. The Convention aims to promote anti-corruption activities, improve the recovery of assets acquired through corrupt practices, and facilitate international cooperation.
Inquiries:
Aarne Kinnunen, Senior Ministerial Adviser, tel. +358 295 150 580, [email protected],
Venla Mäntysalo, Senior Specialist, tel. +358 295 150 033, [email protected]