'Say no to corruption' campaign invites organisations to build a Finland where corruption cannot take hold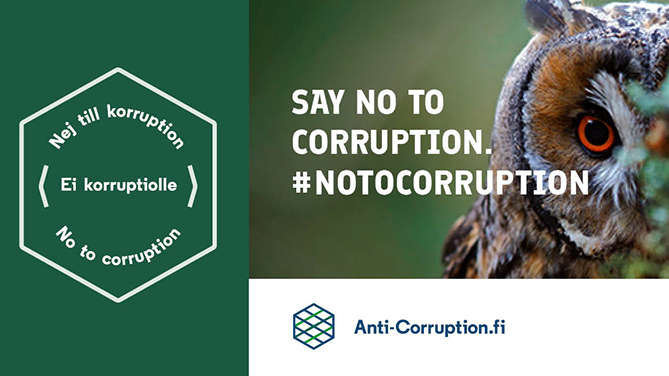 'Say no to corruption' is a campaign promoting openness, transparency and justice in society. The campaign, coordinated by the Ministry of Justice, aims to raise awareness of corruption and anti-corruption work.
The campaign is targeted at organisations operating in Finland, and it encourages the organisations to join the efforts to build a Finland where corruption cannot take hold. The key message of the campaign is that corruption is always harmful and unjust.
In Finland, corruption often appears in the form of conflicts of interests, favouritism and unethical preparation of decisions. Corrupt activities may be undertaken by private individuals, public officials, politicians, and business and industrial operators. Most of corruption is hidden in the structures of society and goes undetected. That is why the statistics of the police or courts do not provide a comprehensive picture of the actual corruption situation in Finland.
The campaign encourages organisations to commit themselves to anti-corruption measures, take the various corruption-related risks into consideration in their internal controls, and draw up a code of ethics for the organisation or update their existing one.
Organisations participating in the campaign commit themselves to combating corruption and promoting openness and justice in their activities. Organisations participating in the campaign pledge that
their management is committed to fight corruption,
they do not accept any form of corruption among their employees or cooperation partners, and
they encourage and instruct their employees to do the right thing in high-risk situations and report any suspicious activities.
In social media, the campaign can be followed using the hashtag #notocorruption. The participating organisations will also receive a 'No to corruption' badge.
Inquiries:
Juuso Oilinki, Senior Specialist, tel. +358 295 150 323, [email protected]
Venla Mäntysalo, Senior Specialist, tel. +358 295 150 033, [email protected]